I'm not a huge fan of peaches (I know, what a great way to get you enthused about this dish, right?). However, there were some great looking peaches at the farmer's market this weekend, and they were selling them cheap. I decided to make a cobbler instead of a crisp, because I was in the mood for something cakey. (Also, as an aside, when I was learning to say my name, I used to call myself Cakey instead of Vicki. Coincidence? Or a foreshadowing of my love for all things cake? You decide). I turned to Paula Deen for the recipe, and I have to admit that it was REALLY good, even though it was full of peaches. I'm sure if you love peaches, you will love this.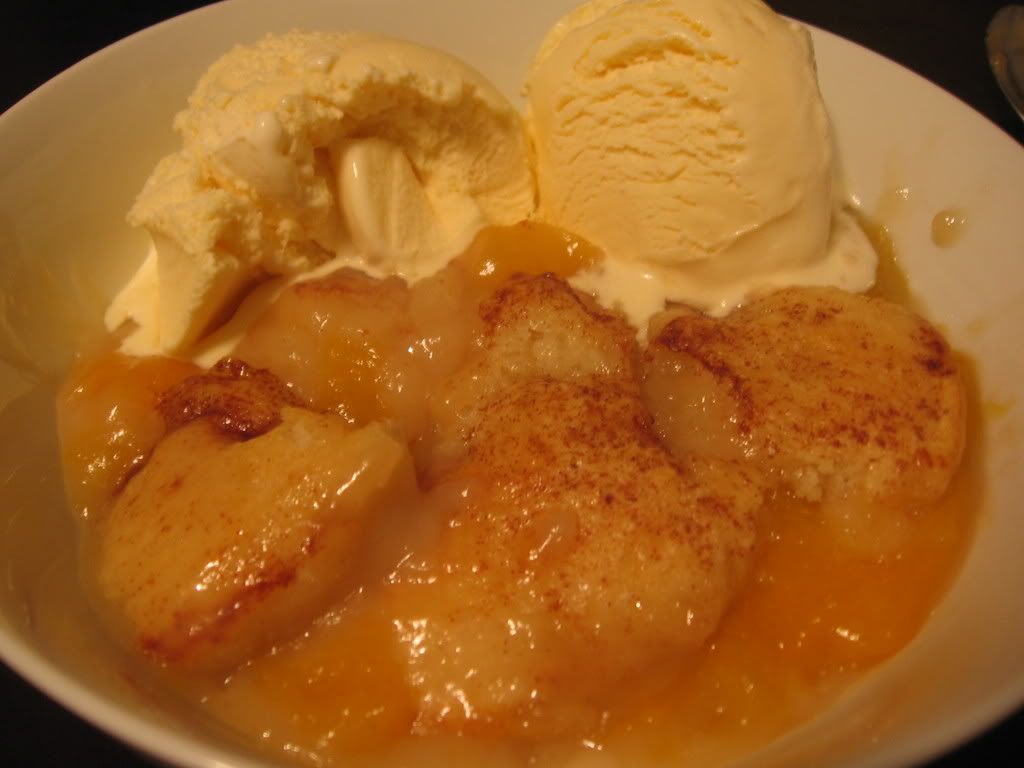 Peach Cobbler

Source:
Paula Deen
Ingredients:
4 cup peeled, sliced peaches
2 cup sugar, divided
1/2 cup water
8 tablespoons (1 stick) butter
1 1/2 cup self-rising flour
1 1/2 cup milk
ground cinnamon, optional

(I don't believe this should be optional. I think the cobbler would be a little bland without it).
Directions:
Preheat oven to 350 degrees.
Combine the peaches, 1 cup sugar, and water in a saucepan and mix well. Bring to a boil and simmer for 10 minutes. Remove from the heat.
Put the butter in a 3-quart baking dish and place in oven to melt.
Mix remaining 1 cup sugar, flour, and milk slowly to prevent clumping.
Pour mixture over melted butter. Do not stir. Spoon fruit on top, gently pouring in syrup.

(The end result will be very runny. I had my doubts that it would rise and turn into something wonderful in the oven, but it did, so don't be nervous).

Sprinkle top with ground cinnamon, if using. Batter will rise to top during baking.
Bake for 30 to 45 minutes.
To serve, scoop onto a plate and serve with your choice of whipped cream or vanilla ice cream.