Oh. My. God. Seriously. These are SO good. Bananas foster is one of my favorite desserts, and about a month ago I had the idea of turning it into a cupcake. I googled and googled and googled, but couldn't find much, and I wasn't happy with the recipes I did find. Finally, I stumbled across this recipe on recipezaar. I knew it had to be good since it actually involved making bananas foster and mixing it into the batter. These were really moist and the flavor was AMAZING. Enjoy!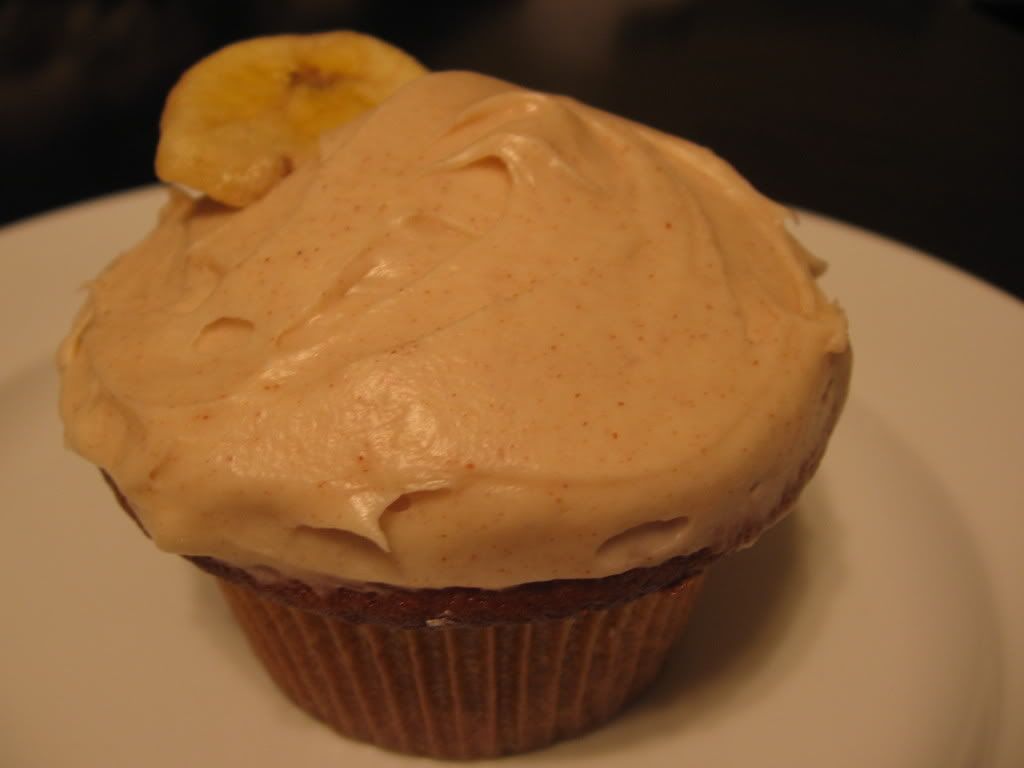 Bananas Foster Cupcakes
Source: recipezaar
Yield: 16 cupcakes
Ingredients for Banana Mixture:
¾ cup unsalted butter
½ cup packed brown sugar
½ teaspoon cinnamon
2 ripe but still firm bananas, quartered (halved crosswise, then lengthwise)
2 tablespoons dark rum
½ teaspoon vanilla extract
Ingredients for Batter:
2 ½ cups all-purpose flour
1 teaspoon baking soda
1/4 teaspoon salt
¾ cup butter, softened
1 ½ cups granulated sugar
3 eggs
1 teaspoon vanilla extract
½ teaspoon dark rum
¾ cup sour cream
Ingredients for Frosting:
8 ounces cream cheese, softened
1 teaspoon ground cinnamon
3 cups powdered sugar, sifted
½ cup butter, softened
¾ teaspoon vanilla
Directions:
Preheat oven to 350 degrees.
For the banana mixture: In a saute pan over medium heat, combine the butter, brown sugar, and cinnamon. Cook until butter melts and sugar is dissolved (4 to 5 minutes). Add the banana slices and cook until tender, turning once for 1 to 2 minutes per side. Stir together rum and vanilla. Turn off the burner and add the rum mixture to the pan. Using a long match, light the alcohol by placing the flame just in the outer edge of the pan. Stand as far back as possible. FLAMBE! (this is the fun part.) The flame should extingish in a few seconds. Gently shake the pan from side to side to coat the bananas with the sauce. Spoon the bananas into a bowl and set aside.
For the cupcakes: In a large bowl, cream butter and sugar with electric mixer until light and fluffy. In a medium bowl, combine the flour, baking soda, and salt. Add eggs, vanilla, rum and banana mixture. Mix well. Add flour mixture alternately with sour cream; blend thoroughly but do not overmix. Pour into prepared cupcake pans.
Bake 20 - 25 minutes or until toothpick inserted comes out clean. Cool for 1- minutes in pan on rack. Remove and cool completely before frosting.
For the frosting: Beat together cream cheese, butter, cinnamon and vanilla on medium speed until light and fluffy. Add about half the powdered sugar and beat until mixed well. Then gradually add the remaining powdered sugar until you reach a spreading consistency (I didn't use all of it, I'd say there was about 1/3 cup leftover).