I've heard great things about beer can chicken, and have been wanting to try it for a while. However, our grill does not have a removable top rack, so there is no way that a chicken could fit standing upright inside our grill. I had just resigned myself to the fact that I would never be able to see for myself how a can of beer could transform a plain old chicken into a culinary delight, when in swooped Guy Fieri to rescue me from this tragedy. I was lazy on Sunday, and clearing out a bunch of things on my DVR (I record WAY too many Food Network shows), when I came across an episode of Guy's Big Bite featuring "Big Bud's Beer Can Chicken". A beer can chicken in the oven! Finally, a way for me to conduct this curious culinary experiment!
Let me tell you, this was THE best chicken I have EVER had. The spice rub from this recipe is amazing, just the right amount of kick (I was doubtful when I looked at all the spiced mixed together, but I can't say enough about how perfect it was). The meat was tender and juicy. This will definitely be a regular item in our house, my husband said he could eat it everyday. Rotisserie chickens no longer have a place in our home.
Try this, you will NOT be disappointed!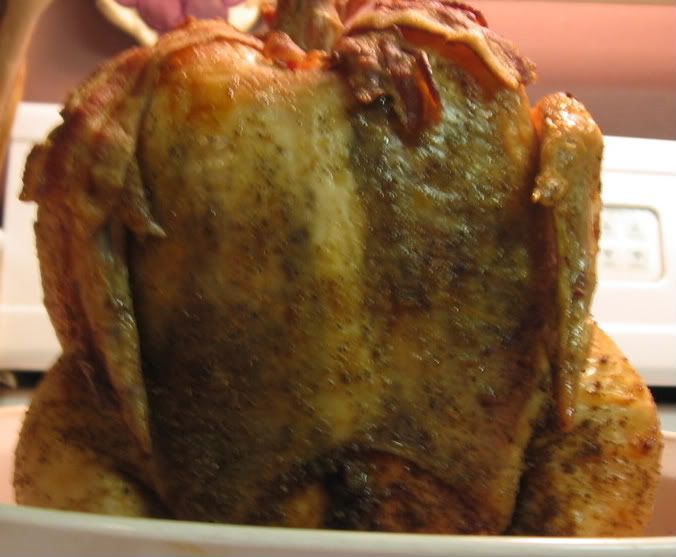 Big Bud's Beer Can Chicken
Source: Food Network
Ingredients:
1 (2 to 3-pound) whole chicken
1 teaspoon dried oregano
1 teaspoon garlic powder
1 tablespoon onion powder
1 teaspoon paprika
1 teaspoon ground ginger
1 teaspoon dried sage
1 teaspoon sea salt
1 tablespoon freshly ground black pepper
2 cloves garlic, smashed
1 (12-ounce) can beer
1/2 pound bacon
Directions:
Preheat oven to 450 degrees F. Wash chicken with cold water and pat dry with paper towels.
Mix dry ingredients in small bowl. Rub 1/2 of the ingredients on inside cavity of chicken. Gently lift the skin up from chicken and rub mixture into meat of chicken, under the skin.
Open beer can and pour out about 1/2 cup. Drop the garlic cloves into the beer can. Place chicken, open end down, over the beer can to insert the beer into the cavity.
Place chicken, standing up, in large saute pan. Place 1/3 of the bacon in the top cavity of the chicken and drape the remaining 2/3 of the bacon down the outside of the chicken. Pierce the bacon to the chicken with toothpicks.
Place chicken in the oven for 10 minutes and then lower temperature to 325 degrees F and cook for another 1 hour, or until the internal temperature in the thickest part of the thigh reaches 165 degrees F on an instant-read thermometer (my chicken was almost 5 pounds and cooked for about an hour and forty minutes).