I'm such a bad blogger that I'm just now posting a dessert that I made for Fourth of July. I feel guilty for keeping this one from you for so long, because it is super healthy (127 calories per slice and NO fat) and delicious.
I was terrified to try an angel food cake. I've never had to beat egg whites into any sort of peaks before, and know that it can turn into a disaster if beaten too long. So before I attempted to make this, I read up on "the egg foam method" in Alton Brown's baking book, "I'm Just Here For More Food" (an EXCELLENT read, by the way). I knew that Alton would explain everything I needed to know in order to make the cake great, and I was not disappointed. Me + Alton + BFFs.
I topped it with cool whip light and some strawberries that I sliced and refrigerated with a little splenda overnight. The original recipe was lemon-poppy seed, but since I'm not a big fan of lemon desserts, I substituted almond extract for the 2 teaspoons of fresh lemon zest and 1 teaspoon of lemon extract that the original recipe called for (now you can turn it back into lemon if you really want to, but the almond was awesome).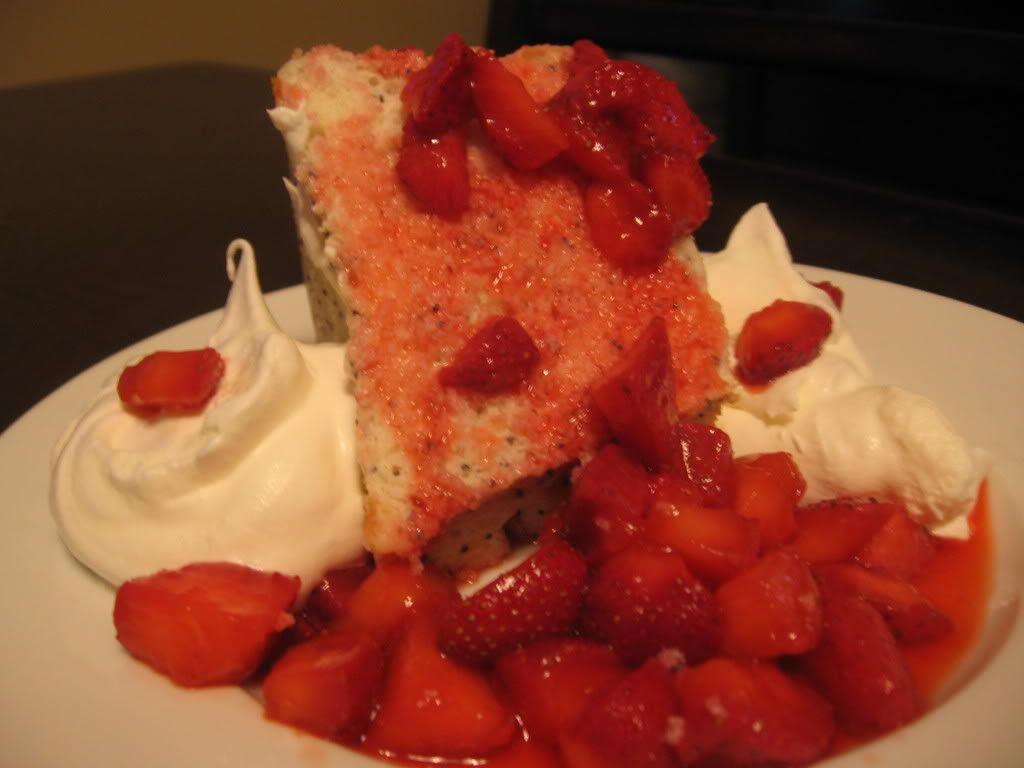 Almond Poppy Seed Angel Food Cake
Source: The Big Book of Diabetic Desserts
Ingredients:
1 cup cake flour
¾ cup Splenda
¼ cup cornstarch
1 tablespoon poppy seeds
12 large egg whites
2 teaspoons almond extract
½ teaspoon cream of tartar
¾ cup granulated sugar
Directions:
Preheat oven to 350 degrees.
Sift together flour, Splenda, and cornstarch. Stir in poppy seeds and set aside.
Combine egg whites and cream of tartar in a large bowl. Beat at medium speed until foamy. Beat in almond extract.
Beat in sugar, one tablespoon at a time, beating at high speed until stiff peaks form.
Spoon flour mixture over the egg white mixture in four additions, gently folding in after each addition. Pour batter into an ungreased 10 inch tube pan.
Bake 20 to 25 minutes until a toothpick inserted in center of cake comes out clean.
Invert cake pan and cool cake completely.
Loosen cake from sides of pan with a thin metal spatula. Invert cake onto a serving platter.