This is one of my favorite meals. The sauce is creamy and a little on the spicy side. Chicken Riggies are native to Central New York, and there is a riggie competition every year. This recipe was actually pretty hard to track down; I'm not sure where my mom ended up finding it, but I stole it from her. I've heard that mushrooms are really good in this, if you're into that kind of thing.
::shudder::
I usually half this recipe if I'm making it for just my husband and I, and there are still leftovers. This makes A LOT. But it's great leftover.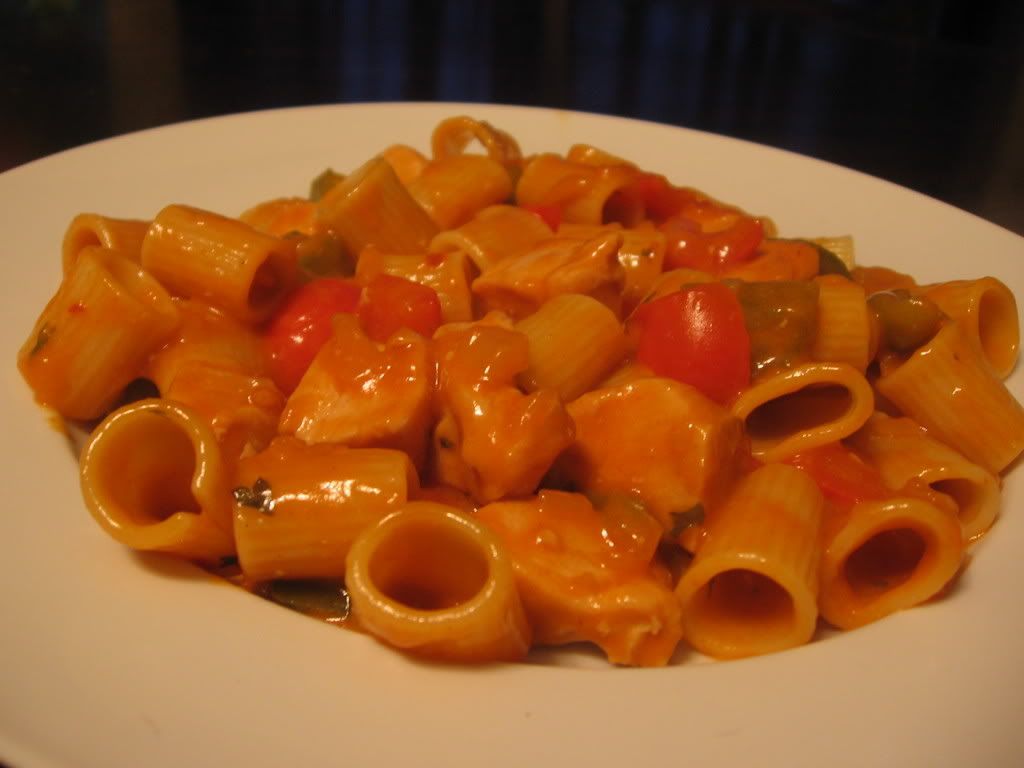 Chicken Riggies
Ingredients:
4 to 6 tablespoons butter
4 chicken breasts, cut into bite sized pieces
Fresh mushrooms (if you must), sliced
1 green pepper, cut into bite sized pieces
1 red pepper, cut into bite sized pieces
1 medium onion, chopped
2 cups chicken stock
1 cup tomato sauce
1 cup heavy cream
1 teaspoon parsley
1 teaspoon paprika
1 teaspoon red pepper flakes
3 teaspoons cornstarch
1 pound rigatoni, cooked and drained (I like the mini rigatoni)
Directions:
Melt butter in pan. Add chicken pieces and cook until chicken is almost done. Add mushrooms, peppers and onion and cook until vegetables start to soften.
Add the chicken stock and stir.
Stir together tomato sauce and heavy cream, then add to chicken & vegetable mixture.
Add parsley, paprika and red pepper flakes.
Bring to a boil, reduce heat and simmer for 20 minutes.
Whisk cornstarch with some water until smooth. Gradually add to sauce, until the sauce reaches desired thickness.
Pour over cooked pasta and mix together.