I've been following this great blog called
How to Eat a Cupcake
. Every week, Cassie posts a poll, allowing her readers to vote on her next cupcake. I voted for the banoffee cupcakes (even though I had never heard of banoffee, I knew the combination of bananas and caramel could not be bad) and crossed my fingers that they would win, and much to my shagrin, they did! There are no words to describe how delicious these cupcakes are. And the frosting? Holy crap. I could eat it by the bucket full (I followed her suggestion of using the caramel apple dip to sweeten the whipping cream). The original recipe is from Cupcake Heaven, by Susannah Blake, a book which is now on my Amazon wish list.
Make these cupcakes. Now.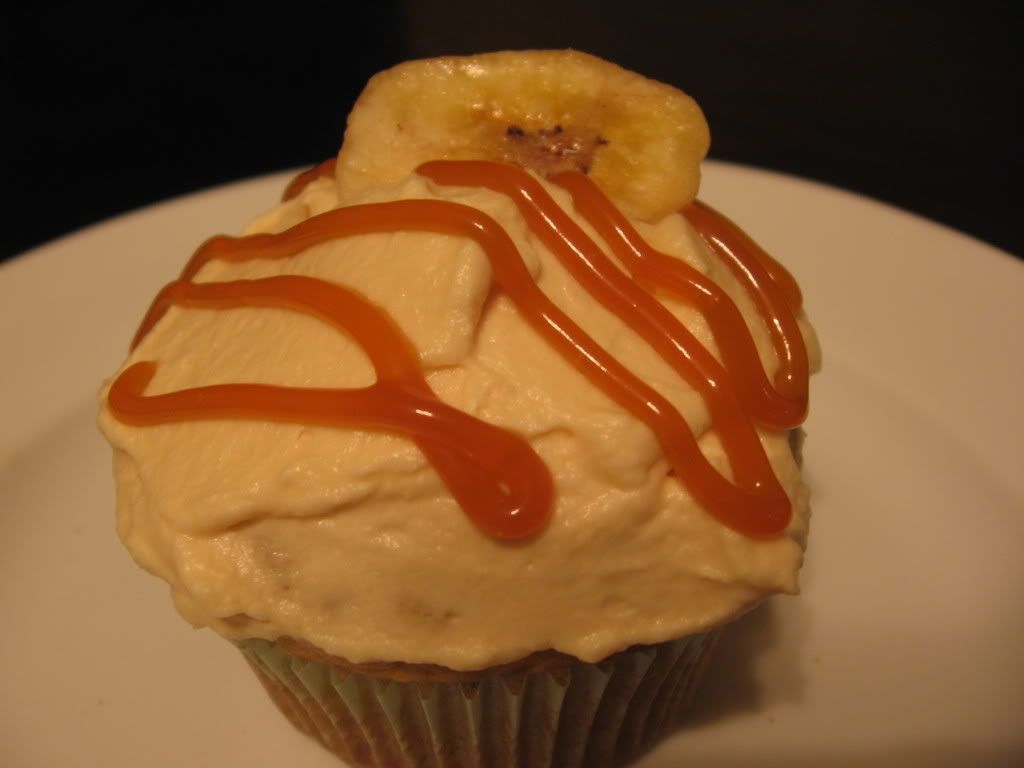 Banoffee Cupcakes
Original Source: Cupcake Heaven, by Susannah Blake
Brought to you by Cassie at How to Eat a Cupcake
Yield: The original recipe says 10, Cassie got 8, and I got 5 large cupcakes.
Ingredients:
4 tablespoons unsalted butter, at room temperature
1/3 cup packed brown sugar
1 egg, beaten
1 ripe banana, mashed
1 cup self-rising flour
4 chewy caramels, chopped
Heath bits to sprinkle on top
Ingredients for Frosting:
2/3 cup heavy cream, whipped
3-4 tablespoons dulce de leche or caramel sauce
Directions:
Preheat the oven to 350°F.
Beat the butter and sugar together in a bowl until creamy, then beat in the egg, a little at a time. Fold in the mashed banana, then sift the flour into the mixture and fold in, followed by the caramels

(I took Cassie's suggestion and tossed the caramels in the flour first to keep them from sticking together).

Spoon the mixture into the paper liners. Sprinkle the top of each cupcake with Heath bar pieces, and bake in the preheated oven for about 16 minutes until risen and a skewer inserted in the center comes out clean. Transfer to a wire rack to cool.
To decorate, swirl the cream over each of the cupcakes, then drizzle with a spoonful of dulce de leche or caramel sauce and top with slices of banana.

(This was not included in the directions, but I beat the heavy cream in my mixer until it reached the consistency of whipped cream, then followed Cassie's suggestion of beating in the caramel apple dip to sweeten. I also topped mine with banana chips so I didn't have to worry about soggy brown bananas).
This is what they looked like after baking! Mmmmm.