I've been in a fall food kind of mood. When I saw this cupcake recipe, I knew that I had to make them mine, and I was not disappointed. They were really moist, and I loved the
streusel
in the middle. I actually had a bunch of
streusel
left over so I sprinkled some on the top also. The caramel topping tasted great, but honestly, these cupcakes are so good that they don't need it. I think it takes away from the taste of the cupcakes. If I make these again, I will just add a crumb topping to them.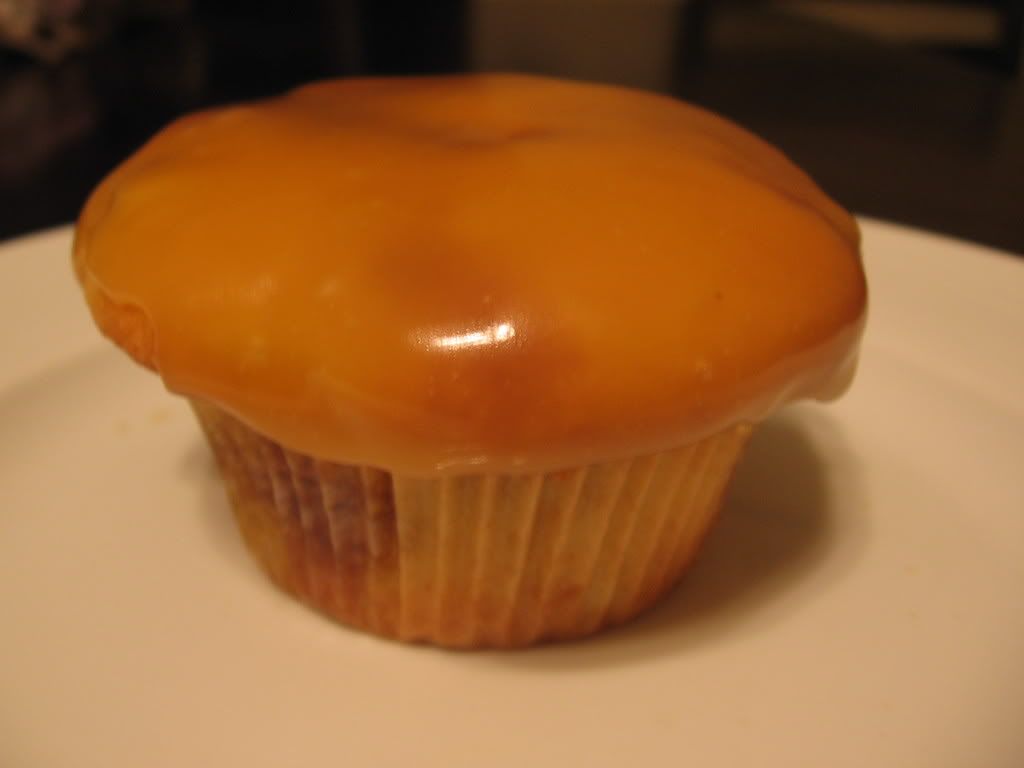 Apple Crisp Cupcakes
Source: "125 Best Cupcake Recipes" by Julie HassonYields 12 cupcakes
Ingredients for Batter:
1 ½ cups all-purpose flour
1 ½ teaspoons baking powder
¼ teaspoon salt
1 cup granulated sugar
½ cup unsalted butter, melted and cooled slightly
2 eggs
½ teaspoon vanilla
1/3 cup milk
1 apple, peeled, cored and diced
Ingredients for Streusel:
3/4 cup packed light brown sugar
1 teaspoon ground cinnamon
3 tablespoons unsalted butter, at room temperature
Pinch salt
Ingredients for Frosting:
1 cup whipping cream
½ cup packed light brown sugar
¼ cup light corn syrup
1 tablespoon unsalted butter
¼ teaspoon salt
Directions:
Preheat oven to 350 degrees. Line muffin pan with paper liners.
Batter: In a small bowl, mix together flour, baking powder and salt. In a large bowl, whisk together sugar, butter, eggs and vanilla until smooth. Alternately whisk in flour mixture and milk, making three additions of flour mixture and two of milk, beating until smooth. Stir in apple.
Streusel: In a bowl, whisk together brown sugar and cinnamon. Add butter and rub in with fingertips until mixture holds together in small, moist clumps.
Scoop about half of the batter into prepared pan. Sprinkle streusel over batter. Scoop remaining batter over streusel.
Bake in a preheated oven for 20 to 25 minutes or until golden brown and tops of cupcakes spring back when lightly touched. Let cool in pan on rack for 10 minutes. Remove from pan and let cool completely on rack.
Frosting: In a heavy saucepan, combine cream, brown sugar, corn syrup, butter and salt. Heat over medium-high heat, stirring, for 2 minutes or until sugar is dissolved and butter is melted. Reduce heat to medium. Cook, stirring often, for 10 to 15 minutes or until thickened. Remove from heat. Stir until smooth and pour into a bowl. Let cool in bowl, stirring occasionally. Caramel will thicken further as it sits and cools. Stir cooled caramel well and spread or spoon over cooled cupcakes.
Annnnnnd - this is what they looked like when they came out of the oven! Mmmmmm.
And of course, a shot of the inside of the cupcake, showing all of it's streusely goodness!